ANNOUNCEMENTS:
SCHEDULE CHANGE: CORE will be now be closed from July 2nd- July 8th for Independence Day.
CORE is enrolling all ages 2+ for themed Summer Camps! See our list of Camp Guests under the Camps Tab!
Registration for Fall Session 1 begins July 11th! Check out the Classes Page for days and times!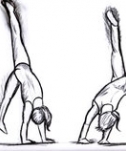 6/24: Jungle and Sea Quest, 5:45-8:45pm
read more
‹
›