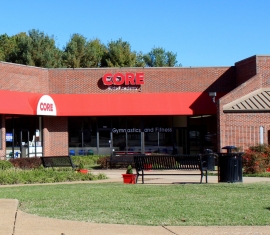 CORE Kids Academy is a unique gymnastics-based fitness program for children. Our mission is to instill and develop confidence, fitness, and life skills through gymnastics. The goal of every class we teach is to provide a fun, friendly environment where our students can build strength, improve coordination, and let their self-confidence flourish.
With adaptable lesson plans that can be easily modified to the individual needs of each child, we incorporate students of all gymnastics abilities and backgrounds. Classes are grouped by age, and skills are taught through personal coaching in a group setting.
Our facility includes:
Four sunk-in trampolines and a tumble trak

Rings and parallel bars

Two sets of uneven bars and 4 single bar rails

Two regulation beams and several practice beams

Two climbing ropes

Cargo net

Fly belt

Spring floor

Several progressive skill training mats, including specialized mats for our Ninja Zone program

and so much more!
​From their very first session with us, students are introduced to skills such as log rolls, donkey kicks, forward rolls, backward rolls, dive-forward rolls, handstands, cartwheels, handsprings, and vaulting.
All coaches are trained on the best methods of safe, effective coaching and spotting, and regularly take measures to continue their education as gymnastics instructors. Our employees also receive thorough background and reference checks, are CPR/First Aid certified, and fully committed to CORE's mission, philosophy, and positive coaching technique. Join us today, and help us teach your children to build healthy habits early!