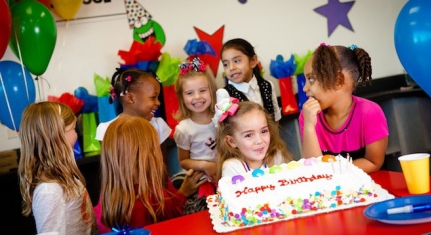 At CORE Kids Academy, we pull out all the stops (and equipment!) to make your child's birthday bash a blast. Our coaches lead an action-packed hour and half of activities and take care of it all--from set up to clean up and even loading your car-allowing you to kick back and enjoy your child's special day!
What we provide:
Private use of the entire CORE Kids Academy facility for 90 minutes—starting with 60 minutes of gymnastics led by two energetic coaches and then 30 minutes in our party room.
Age-appropriate circuits that incorporate all of our equipment, including 4 in-ground trampolines, tumbletrak, and MUCH more!
Add on our 30' Inflatable Caterpillar Obstacle Course for $25 more!
The sky-high ride of a lifetime in our FLY HARNESS for the birthday child!*
*For children under 5 years old. Flying birthday children is up to the discretion of the party instructor.
Paper products including plates, napkins, and utensils-- post-party cleanup is covered, too. Cups are not included.
Available days and times:
Saturday -- 4:00 PM, 6:00 PM
Sunday -- 2:00 PM, 4:00 PM
To book a party with us, you can do so through our Parent Portal online under the "Events" section.
To register for a Parent Portal account with us, click "Enroll Today" at the top of this page!
FREQUENTLY ASKED QUESTIONS ABOUT OUR PARTIES:
Do you offer parties on weekdays?
Due to the high volume of classes we host during the week. We are not able to offer parties on weekdays.

How much does a party at CORE cost?
For current members (current on yearly registration dues) our party price is $295, while our non-member price is $315. A NON-REFUNDABLE $100 deposit is required to reserve your party date, and will be deducted from your final balance on the day of your party.

How many children can attend a party at CORE?
The party price includes fun for up to 12 children including the birthday child. Parents of guests 3 and younger are asked to stay on the floor with their child(ren) to assist with the circuits and social distancing. You may invite additional children for $15 extra per child up to 20 children maximum.

Do you offer any add-ons?
Below is a list of all "party add-ons" we provide:

-​Balloons (red, yellow, and blue): $15
-Joint Parties: $25 per family of the birthday children
-Ninja-Themed Party: $50
-30' Inflatable Caterpillar Obstacle Course: $25

What do I need to bring?
​Due to specific allergy and dietary restrictions, CORE does not provide refreshments. (We DO supply all paper products, with the exception of cups). Children under the age of 3 will need to be supervised at ALL TIMES by an adult while in the gym. If a child needs help in the restroom, it is the responsibility of either the child's parent or the party parent. Please inform all party guests that they will be barefoot while on the gym floor and need to wear comfortable clothes for moving around!
Find a copy of our party contract, here.
Find our waiver, required for all party participants, here.