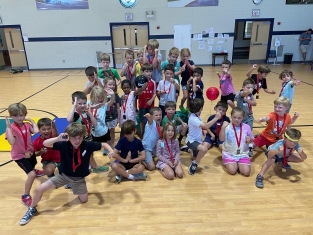 Let CORE Come to You
We bring the equipment, you supply the space! We offer a variety of mobile services, from full 8-week fitness enrichment programs to field trips and mini-camps. Our mobile program allows us to set up our gymnastics circuits virtually anywhere, so we can bring the gymnastics, fun, and fitness to you! We are now offering a mobile option for our Ninja Zone program as well! Our ninja zone trainers bring special ninja equipment to create obstacle courses that emphasize free-flowing movement.
---
The CORE Kids Academy Mobile Program
We partner with parents and teachers to equip each child with a working knowledge of fitness, safety, and healthy habits. Our coaches bring our equipment and expertise to your school or organization to teach age-appropriate gymnastics skills with an emphasis on increasing coordination, balance, flexibility, strength. Our lesson plans can be altered based on the individual needs of each child and tailored to incorporate your school's current lesson plans, themes and subjects of study.
---
Field Trips
Take a field trip to our state-of-the-art, kid-friendly facility where your students will receive a fun, action-packed workout. We can even incorporate weekly lesson plans to help reinforce certain early education skills. Our party room is also available for snack or lunch.
---
Here are some of the schools and organizations that we have partnered with:
Primrose School--Westerre Commons and Twin Hickory
Goddard School
Fox Elementary School
Westhampton Day School
Leafspring School at Three Chopt
Jackson Davis Elementary
Chesterbrook Academy
Derbyshire Preschool
Pemberton Elementary
St. Catherine's School
Collegiate School
JCC
Tuckahoe Elementary School
Collegiate School
If your school or organization is interested in hosting a mobile program or scheduling a field trip, give us a call at (804) 740-0079 or email info@corekidsacademy.com to find out more!