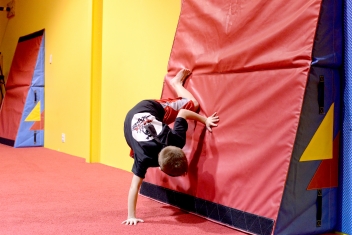 Want a party unlike any other birthday party your child has been to? With a Ninja party at CORE, your child will walk in as a regular kid and walk out a NINJA!

Your child and their guests will take part in NinjaZone training, utilizing CORE's special Ninja equipment to learn basic Ninja skills, play games, and have a BLAST with their friends. Our Ninja Parties are unique and fun, and something your birthday child and guests won't forget!
What we provide:
Private use of the entire CORE Kids Academy facility for 90 minutes—60 minutes of Ninja training led by two energetic coaches and a half hour in our party room.

A fast-paced and fun obstacle warm up, using all our special Ninja mats!

Age-appropriate circuits that incorporate all of our equipment, including 4 in-ground trampolines, tumbletrak, and MUCH more!

The sky-high ride of a lifetime in our FLY HARNESS!
*For children 6 and under. Flying birthday children older than 6 is up to the discretion of the party instructor.
Red and black paper products including plates, napkins, and utensils that keep with our Ninja theme-- post-party cleanup is covered, too.
A Ninja party can be booked during any of our avaliable party time slots for an additional $50.