ANNOUNCEMENTS:
Registration for classes beginning in September opens August 1st at 9:00am
With our ongoing enrollment, you can enroll in a class at any time! Check our class schedule and enroll online!
Check our calendar for upcoming events!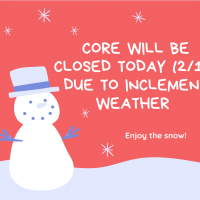 CORE will be closed on 2/12 due to inclement weather. Please email or call to schedule a make up.