ANNOUNCEMENTS:
With our ongoing enrollment, you can enroll in a class at any time! Check our class schedule and enroll online!
Summer camp registration opens February 1st!
Special events are back! Check our calendar for upcoming events!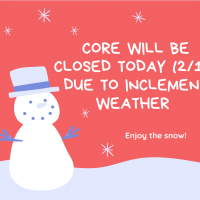 CORE will be closed on 2/12 due to inclement weather. Please email or call to schedule a make up.