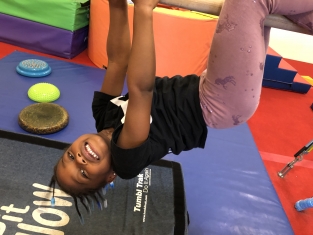 As we return to classes in the gym, our summer schedule has been modified to adhere to guidelines set by the CDC and the Governor of Virginia. As these guidelines change, we plan to expand our summer class options to include more times and age groups. Please visit our COVID-19 Policies & Procedures page to learn more about the cleaning and safety guidelines we will be implementing.
Blazing Stars (Summer)
4 year olds
This class combines basic early education skills with gymnastics to increase motor development, and is suited for new students and rising former students alike. Skill progressions include log rolls, forward rolls, backward rolls, handstands, and cartwheels. Parents must be on the floor to assist their child with social distancing. 45 mins.
Schedule
Day
Time
Wed
9:00-9:45
Fri
9:00-9:45
Sun
9:30-10:15
10:30-11:15
Core Stars (Summer)
Ages 5-6
Coaches focus on the individual capabilities of each student while introducing new gymnastics skills using progressions and developing a solid foundation of gymnastics fundamentals including cartwheels, handstands, forward and backward rolls, and bridges. Fitness skills, strengthening exercises, body awareness activities, and healthy habits are all introduced and reinforced throughout the year. Classes are girls only unless otherwise noted. 60 min.
Schedule
Day
Time
Mon
9:00-10:00
3:00-4:00
4:15-5:15
Tue
3:00-4:00
5:30-6:30
Wed
10:15-11:15
3:00-4:00
4:15-5:15
Thu
3:00-4:00
5:30-6:30
Fri
10:15-11:15
Sat
9:00-10:00
10:15-11:15
11:30-12:30
Galaxy Girls 7+ (Summer)
Ages 7+
The objective of the course is to build a foundation in gymnastics skills using progressions for cartwheels, handstands, bridges, and pullovers. Strength, flexibility, balance, coordination, and confidence are all reinforced through physical conditioning exercises. 60 min.
Schedule
Day
Time
Mon
9:00-10:00
10:15-11:15
3:00-4:00
4:15-5:15
Tue
5:30-6:30
Wed
3:00-4:00
4:15-5:15
Thu
5:30-6:30
Fri
10:15-11:15
Sat
11:30-12:30
Girls Intermediate (Summer)
Girls 5+
This intermediate level gymnastics class requires an evaluation by CORE coaches. Minimum skills required to join include bridge, handstand, cartwheel, and a pull-over. 60 min.
Schedule
| Day | Time |
| --- | --- |
| Mon | 5:30-6:30 |
| Tue | 4:15-5:15 |
| Wed | 5:30-6:30 |
| Thu | 4:15-5:15 |
Boys Gym and Strength (Summer)
Boys 5+
This class combines skills from gymnastics with traditional sports conditioning to increase strength, coordination, balance, and agility. Boys can expect to learn progressions for handstands, cartwheels, pullovers, and forward and backward rolls as well as improve overall strength and conditioning through various gymnastics circuits. 60 min.
Ninja Zone (Summer)
5-11 years old
This high-octane combination of obstacle training, martial arts, gymnastics, and freestyle movement is designed to harness the limitless energy of young boys and girls for a total body workout that builds strength, endurance, and character. 60 mins.
In an effort to promote discipline and unity, Ninja Sport International and CORE Kids Academy requires uniforms (Ninja t-shirt and headband) for all Ninja Zone classes. The uniform is purchased separately. An email with the link will be sent after class enrollment.
Schedule
Day
Time
Mon
10:15-11:15
5:30-6:30
Tue
3:00-4:00
5:30-6:30
Wed
10:15-11:15
Thu
3:00-4:00
5:30-6:30
Sat
10:15-11:15
Virtual Classes (Summer)
For your convenience, we will continue to offer online classes all summer long! Our virtual classes are a great alternative and/or supplement to our live classes in the gym, helping your gymnast or ninja maintain (and progress!) their skills, strength and coordination.
Schedule
| Day | Time |
| --- | --- |
| Mon: Core Stars | 2:00-2:45 |
| Tue: Galaxy Girls | 2:00-2:45 |
| Wed: Ninja Zone | 2:00-2:45 |
| Thu: Ninja Zone | 2:00-2:45 |
| Fri: Girls Intermediate | 2:00-2:45 |