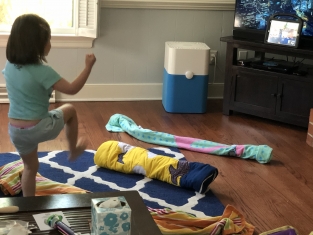 Not ready to come back to the gym for in-person classes? Join us online for classes!
We are offering both live classes via the Zoom platform as well as on-demand content via YouTube.
We have been working hard to adapt our lesson plans and are confident that we are able to provide key portions of our lesson plans as well as adaptive condition programs that will keep your child exercising and engaged, all from the comfort of your own home! Our online classes are open to anyone!
To register for any of our online class options, log into the parent portal and filter down by Session--Online Classes
Online Classes (Summer)
For your convenience, we will continue to offer online classes all summer long! Our online classes are a great alternative and/or supplement to our live classes in the gym, helping your gymnast or ninja maintain (and progress!) their skills, strength and coordination.
$15/class
Schedule
| Day | Time |
| --- | --- |
| Tue: Core Stars/Galaxy Girls | 12:15-12:45 |
| Thu: Ninja Zone | 12:15-12:45 |